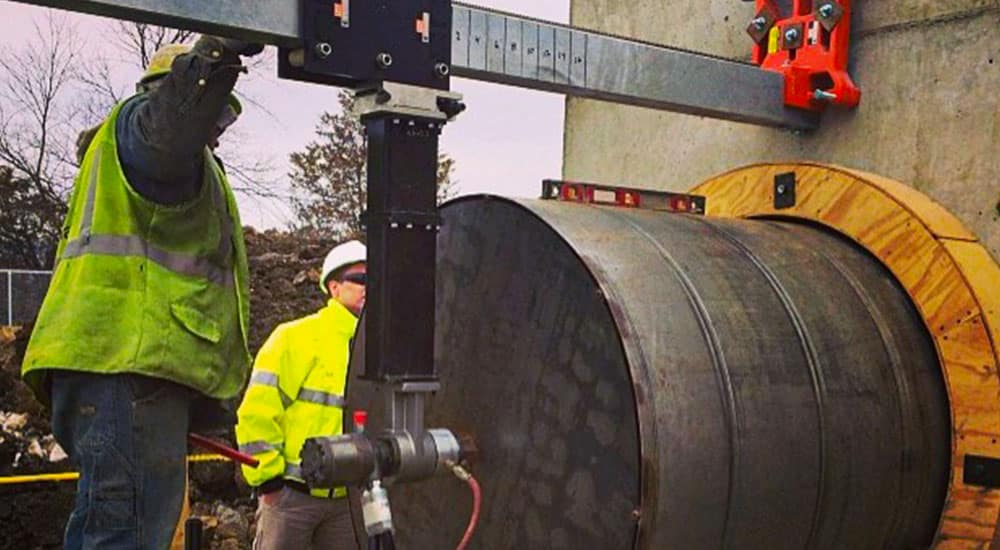 The process of drilling perfectly round holes in Concrete Walls, Floors or Concrete Ceilings is called Core Drilling. This is a common practice in construction wherever there are HVAC Ducts, Sprinker Systems, Fiber Optics, Plumbing or electrical considerations.
In order to do this, specialty equipment is required, the most common being Diamond Concrete Core-Drills with bits that consisting of Steel tubing embedded with Diamond segments on the drilling side ensuring a clean cut through the surface.
Core Drilling New York
When it comes to Core Drilling New York, J.P. Hogan has the equipment and supplies to perform this service in almost any environment. Our new core drill truck is ideal for airport lighting and manhole projects and allows us to drill faster and more consistently. Holes can be drilled underwater, vertical, horizontal, angled, compound angle and even upside down. The drilling equipment we utilize can be powered by electric, hydraulic, pneumatic and high cycle motors. We have the capacity to drill holes ranging in diameter from fractions of an inch up to 80" inches in diameter. And due to the development of continuous tubing core bits' holes can be drilled up to depths of 60' feet or longer.
Applications include communication lines passing through a concrete or brick structure for:
We have retained our prominence in the industry, become recognized as a DBE by the Florida Department of Transportation as well as he Georgia Department of Transportation. J.P. Hogan continues to develop and maintain our long-standing relationships with some of the largest Construction Management Firms and General Contractors in the business, allowing us to showcase our talents in all the projects we complete.